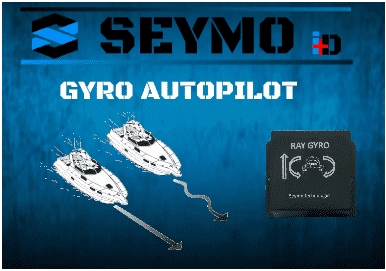 Description:
Autopilots respond to course through the reference of the compass but this is usually slow in difficult navigation conditions (following sea, wind, waves, etc ..).

Seymo angular gyro, for autopilots, with its advanced design INS (inertial navigation system), is an important part of auto navigation systems and inertial guidance in motorboats and sailboats. The instrument of this inertial guidance system includes gyroscopes and accelerometer.
Detecting rotational accelerations to which it is subjected when the boat is off course. by a wave, loading or sails.
These signals are fed to the course computer, which calculated continuously speed and exact address of ship navigation and using the computer algorithm, act quickly in compensation, causing the feeling that the ship is expected to waves, as if the really feel as if sail gliding on rails.
We verify how the system produces many short, precise corrections rather than large rudder movements. Keeping an accurate course, automatic yaw control with fast reaction to correct the course

AutoLearn, Advanced S teering T echnologie (AST), and Autotrim function, so the pilot automatically understands the vessel's steering characteristics, simplifying calibration and allowing the vessel to constantly adapt to changing sea conditions. Self learning variables as the boat (rudder gain, speed, trimer, etc ..)
Features + :
Go from 3-9 levels of accuracy in the direction
MARPA: 5/10 Hz
Autolearn: rudder gain, speed, trimer, rate gyro,
Compatible:
Raymarine:
Equivalent to all GyroPlus
GyroPlus
GyroPlus 2
GyroPlus 2 smart heading
E12101 Gyroplus 2 Rate Gyro Module
GyroPlus (part number: A18069)
GyroPlus (part number: M81162)
GyroPlus Transducer (Z179)
GyroPlus Yaw Sensor
GyroPlus 2 External Rate Gyro
E12102 GyroPlus 2
Raymarine course computer:
SSEYMO GYRO converts the following pilots (G) gyroscopo
S1
S2
S3
Type 150
Type 400
Type 100 This type of autopilot only has 3 levels of accuracy
Type 300 This type of autopilot only has 3 levels of accuracy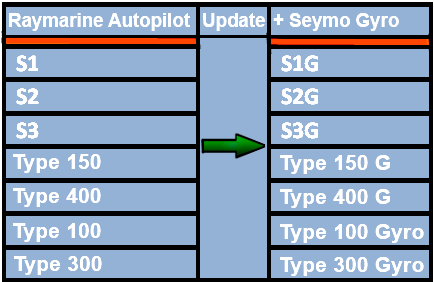 Dimensions:
Incudes:
SEYMO GYRO
user manual PDF
Cable Connection
APP helps configuration
Documentation:





Update Seymo Gyro:
Year/Versión: 
 2010/V1.01,
 2011/V1.02, 
 2012/V2.00,
 2013/V2.01,
 2014/V2.02,
 2015/V2.03, 
 2016/V2.04
 2018/V2.05