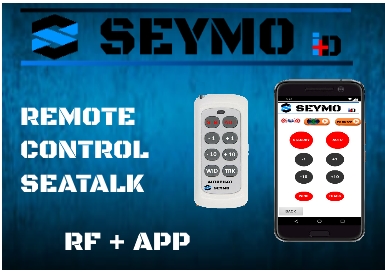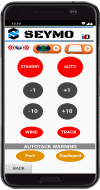 Description:
ST300 wireless wireless control, for any Raymarine SeaTalk autopilot, is installed below deck and allows us to control the pilot from anywhere on the boat from bow to stern, or from inside.
Easy operation 8 buttons with heading functions for autopilot control.
Android app to control all functions from the phone.
Operation: pressing AUTO will make the following functions available.

Functions:
•AUTO
•STANDBY
•-1
•-10
•+1
•+10
•TRACK
•WIND VANE
•AUTOSTACK PORT (Automatic port tack)
•AUTOSTACK STARBOARD (Automatic starboard Tack)
Raymarine compatible pilots:
Compatible with all Raymarine pilots with Seatalk bus
ST1000
ST1000+
ST2000
ST2000+
ST3000
ST4000
ST4000+
ST5000
ST5000+
ST6000
ST6000+
ST6001+
ST6002+
ST7000
ST7000+
ST7001+
ST7002+
ST8001+
ST8002+
Type 100
Type 300
Type 150
Type 400
Smartpilot: S1,S1G,S2,S2G,S3,S3G
SPX5
SPX10
SPX30
SPX40
Evolution: with adapter not included
EV100, 200, 300 & 400.






Dimensions:
Remote: 90 x 35 x 15mm
Control box 69x82x30mm

Included:
Control box
Prewired
3 pins connection
1 Remote control
Installation manual